Dec 3, 2017
Urban Air Market: Holiday is the one-stop-shop for ethically made gifts that give back. Score unique fair trade and sustainable finds for your socially conscious friends and family. 140+ curated local vendors of clothing, jewelry, accessories, and home decor including members of the Sustainable Fashion Alliance. Check out the full list of vendors and partners here.
DATE AND TIME
Sun, December 3, 2017
11:00 AM – 6:00 PM PST
LOCATION
55 Harrison St
Jack London Square
Oakland, CA 94607
---
Nov. 19, 2017

WEAR YOUR VALUES: THE GLOBAL PREMIERE OF RIVERBLUE
Following international river conservationist, Mark Angelo, RiverBlue spans the globe to expose one of the world's most pollutive industries, fashion. Narrated by clean water supporter Jason Priestley, this groundbreaking documentary examines the destruction of our rivers, its effect on humanity, and the solutions that inspire hope for a sustainable future.
On November 19, 20 cities worldwide are premiering the documentary to unveil facts the fashion industry doesn't want you to know. The San Francisco premiere is followed by a lively Q&A with industry experts so you can walk away with actionable ways to buy better and wear your values on your sleeve. After the Q&A, continue the conversation over cocktails at ABV with the Bay Area's industry insiders.
Get your tickets now! The first one-hundred tickets sold come with a custom sustainable tote filled with gifts for a conscious approach to fashion (a $120 value). Limit 2 tickets per order.
Watch the trailer here.
Moderator
Kestrel Jenkins of Conscious Chatter
Kestrel is a storyteller & conscious style maven who believes fashion + ethics can jive, and maybe even thrive together. For over a decade, she's been enthralled with asking questions about where our clothes are made, what they are made of and who made them.
Panelist
Molly Sedlacek, Sustainability + Production Manager at Coyuchi
Coyuchi is one of the first companies to bring organic bedding and bath to the U.S. market over 25 years ago. We are committed to our core ideals; sustainability, minimally processed (pure) fibers, great design and a truly human commitment to our customers and employees. To us it's more than a philosophy, it's what we're made of.
Ayesha Barenblat, Founder of Remake
We're a group of fashion enthusiasts that believe style and ethics go hand in hand. At Remake, we're all about creating a better life for the women who make our clothes. Join the movement and help us make slow fashion the new industry standard.
Liza Moiseeva, Co-Founder of GlobeIn
GlobeIn is a social business dedicated to empowering remote artisans from around the world. Our main product is a monthly Artisan Box subscription, where every product fights poverty through job creation and fair wages.
Partners
Fashion Revolution
Fashion Revolution is a global movement that runs all year long. We celebrate fashion as a positive influence while also scrutinising industry practices and raising awareness of the fashion industry's most pressing issues. We aim to show that change is possible and encourage those who are on a journey to create a more ethical and sustainable future for fashion.
Wildlife Works
Wildlife Works is an award winning pioneer in the voluntary carbon REDD+ market; protecting wildlife, forests and community through the development and sales of forest protection credits. On our Kenyan project site, we have the world's only Carbon Neutral, Fair Trade apparel factory that protects wildlife.
---
Sept. 14, 2017
What is the reality of scaling sustainable and ethical production as companies grow into global brands?
Join the Sustainable Fashion Alliance at FiSF for an exploratory discussion on the successes and challenges of sustainability at scale with three locally grown companies – Gap Inc., Allbirds, and Coyuchi – moderated by Wildlife Works.
We will hear valuable insights from each brand, including:
How Gap Inc. has been able to inject sustainability programs into their established global supply chain and their goals for growth.
How venture-backed Allbirds developed sustainability into the DNA of their company and their plans to scale.
How Coyuchi's strategy has grown business' profits alongside their sustainable practices.
AGENDA
6:00-6:30pm – Doors open and check-in
6:30-7:30pm – Welcome, Discussion and Q&A
7:30-8:00pm – Networking
SPEAKERS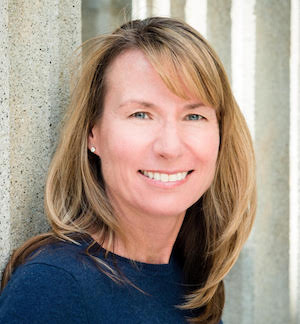 Eileen Mockus, CEO, Coyuchi
Eileen Mockus is the CEO at Coyuchi, a home textile company committed to making thoughtfully designed, quality goods with processes that are both friendly to people and the planet. The company is a pioneer in working with organic cotton, GOTS certification, and responsible wool for its products. The company recently launched Coyuchi for Life, the first sustainable subscription model for home textiles. Eileen holds a BS in Textiles and Clothing from the University of California, Davis, and a MSBA from San Francisco State University. She learned about entrepreneurship first-hand while developing new products for the North Face, and honed her business development and branding skills at Pottery Barn Kids and PB Teen. At these and other iconic brands, such as Patagonia, she developed a deep knowledge about textiles and the supply chain through visits to mills and manufacturers in the USA, Asia and Europe. Learn more: www.coyuchi.com/environmental-social-initiatives.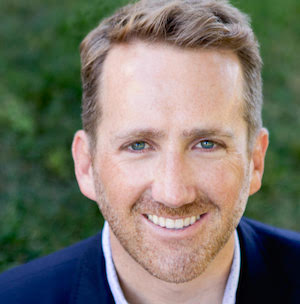 Jad Finck, VP of Innovation & Sustainability, Allbirds
Jad Finck leads Innovation & Sustainability at Allbirds, a new San Francisco-based footwear brand dedicated to making the most sustainable footwear using premium natural materials, and designed for the "to and fro" of everyday life. As one of the earliest team members at Allbirds, Jad focuses on scouting, developing, and deploying exciting and sustainable materials and manufacturing processes for the company's products of tomorrow, as well as continuous improvement of Allbirds' existing product portfolio. Prior to Allbirds, Jad commercialized first-of-a-kind renewable materials while at Solazyme and invested in bioenergy pioneers at Chevron Tech Ventures. Jad has a mechanical engineering degree from Stanford University and an MBA from the USC Marshall School of Business. Learn more: www.allbirds.com/pages/our-promise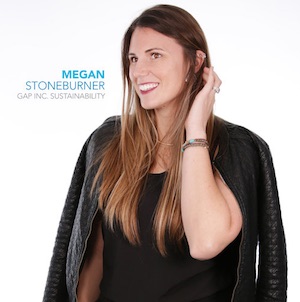 Megan Stoneburner, Product Sustainability Manager, Gap Inc.
Megan Stoneburner has spent the last 10 years in product development in the bay area, working in Inventory Management, Production, and Sourcing of apparel and home goods. She has spent the majority of her career working at Gap Inc. brands, and in 2015 transitioned into a sustainability role on the Gap Inc. Sustainable Innovation team. As Product Sustainability Manager she partners with the Gap Inc. portfolio of brands to develop brand-specific sustainability strategies and goals, in addition to building education and awareness platforms for Gap Inc. employees. Her love for the outdoors has made her career a life mission. Learn more: adressed.gapinc.com/blog/2017/4/18/gap-inc-employee-profile-megan-stoneburner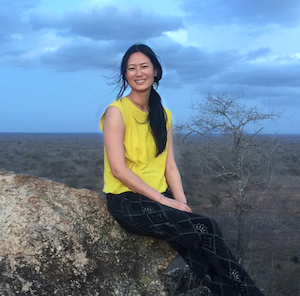 Joyce Hu, Moderator & Marketing and Creative Director, Wildlife Works
Joyce Hu is the Marketing and Creative Director for Wildlife Works, the world's only carbon neutral, fair trade factory protecting wildlife. Based in Kenya, Wildlife Works factory produces for ethical brands such as PUMA, Globein, Raven & Lily, Lalesso and more. Prior to Wildlife Works, Joyce was marketing director for Shanghai Tang, a global fashion brand based in Hong Kong. Joyce founded thebookr.com, the first online direct-to-talent booking platform; co-founded sustainablefashionalliance.com, a member-based group of sustainable fashion professionals; and most recently, marlinray.com, beach accessories that bring together beauty, function and sustainability. Learn more: www.factory.wildlifeworks.com.
Image Credit: Boll and Branch